Increase productivity, lower costs and stay safe
Follow other companies by optimizing your fleet, lower costs and damages, and get full control of your business.
Real-time live tracking
Easy access to all your vehicles and assets through a live map. Updates within 15 seconds.
Speeding alerts
Get alerts and reports of occurrences when speeding over the posted speed limit.
Disconnect alerts
Get alerts and reporting when devices are disconnected intentionally or unintentionally.
Receive routes
Receive routes directly in the app and check them off one by one.
Paperless vehicle inspections
Record defects in seconds, add relevant notes, and snap a picture to go along with it.
Are drivers sharing vehicles?
Check-in and track trips, idling and speeding for each driver.
Scheduled reports
Choose among a wide range of reports IFTA, idling, speeding, utilization etc and schedule them to your needs.
Advanced Routing
Automatic routing based on time, traffic etc. Up to 75 stops.
Share routes
Share your routes to drivers directly through the mobile app, via text message, or over e-mail.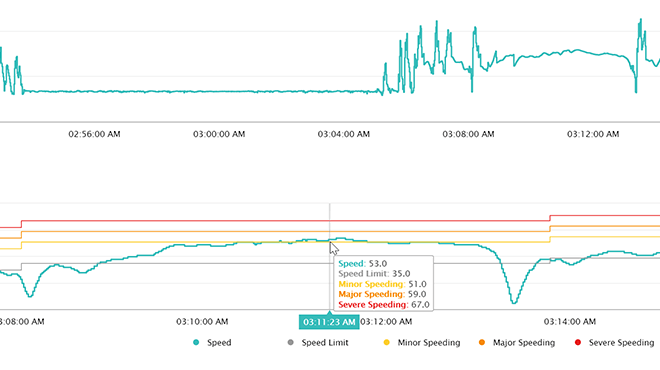 Speeding
Down to the second detail on speed and posted speed limits. Get scheduled speeding reports.
Fleet Activity
Get an overview of all stops and stop durations.
Tracking device